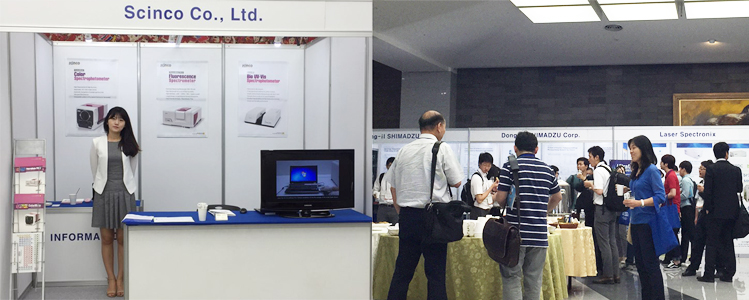 International Conference on Photochemistry, ICP 2015 was held by Korean Chemistry Society and Korean Society of Photoscience in Jeju International Conference Center, ICC from Jun. 28 to July 3th.
Started in 1962, ICP as one of the most prestigious international conferences in the photochemistry field, provides many scientists a good opportunity to discuss the latest developments in fundamental and applied photochemistry or related sciences.
ICP 2015 programmed a variety of stimulating lectures and presentations, inspiring the attendees, and particularly attracting the young generation of scientists who has just entered the photochemistry world.
We, Scinco, attended and setup a booth to introduce our Fluorescence Spectrometer, Color Spectrophotometer and UV-Vis Spectrophotometer which is used a lot for research and experiments in photochemistry.
Expectedly, worldwide foremost scientists, doctors, experts and professors visited our Sicnco booth and showed a great interest in our products.
This conference was a good chance to promote Scinco products along with our own high-end technologies in the photochemistry field.
Thank you for all the visitors for enjoying with us.